COSMETIC DENTISTRY HAYWARD, CA
Your smile is the first thing people notice about you. Cosmetic dental procedures by our Hayward dentists at Southland Dental Care can brighten, whiten, and straighten teeth so you can smile with confidence. Whether you have stained, discolored teeth, or a crowded smile, our cosmetic dental services, paired with preventive care, can create healthy, beautiful smiles.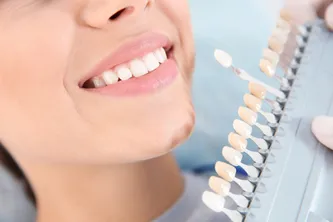 ENHANCING YOUR SMILE
Drs. Charles T. Giang and John J. Muzio provide excellent cosmetic dental treatments that meet your aesthetic goals. We understand that a healthy, beautiful looking smile can instill better self-esteem. Full smile reconstruction is possible with a combination of various treatments offered by our team, which include:
Dental Bonding
Bonding is a conservative way to repair slightly chipped, discolored, or crooked teeth. It is also less expensive than other cosmetic treatments and usually can be completed in one visit to our office. If you find that your teeth are misshapen or stained, dental bonding can enhance the cosmetic look of your smile by acting as resin veneers.
Composite bonding resin can also act as a cosmetic alternative to amalgam fillings and improve the appearance of teeth. Many patients prefer bonded fillings because the white color is much less noticeable than the silver amalgam fillings.
Dental Implants
An implant is a synthetic tooth root in the shape of a post that is surgically placed into the jawbone. The "root" is usually made of titanium: the same material used in many replacement hips and knees, and a metal that is well-suited to pairing with human bone. A replacement tooth is then fixed to the post. The tooth can be either permanently attached or removable. Permanent teeth are more stable and feel more like natural teeth.
The ideal candidate for implants is a non-smoker who has good oral health, including a sufficient amount of bone in the jaw, and healthy gums with no sign of gum disease.
Implants are versatile. If you are only missing one tooth, one implant plus one replacement tooth will do the trick. If you are missing several teeth in a row, a few strategically placed implants can support a permanent bridge (a set of replacement teeth). Similarly, if you have lost all of your teeth, a full bridge or full denture can be permanently fixed in your mouth with a strategic number of implants.

Teeth Whitening
Utilizing the Zoom! teeth whitening system, discolored, stained dental enamel is brightened in our office. At our Hayward dental practice, we offer additional other forms of teeth whitening such as Crest® Teeth Whitening strips, and customized take home whitening trays for dentist supervised at-home cosmetic treatment.
CEREC Crowns
Whether you need to cap a treated tooth, or need a restoration for your dental implant, we have a CEREC machine for in-office milling of all-porcelain dental crowns. Porcelain dental crowns have the same natural sheen and feel as your real teeth, and are customized to fit perfectly into your smile.
Porcelain Veneers
With veneers, you can easily correct your teeth's imperfections to help you have a more confident, beautiful smile. Veneers are natural in appearance and are a perfect option for patients wanting to make minor adjustments to the look and feel of their smile.
Veneers are thin, custom-made shells made from tooth-colored materials such as porcelain. They are designed to cover the front side of your teeth. To prepare for veneers, your Hayward, CA dentist will create a unique model of your teeth. This model is sent to a dental technician who creates your veneers. Before placing your new veneer, your dentist may need to conservatively prepare your tooth to achieve the desired aesthetic result.
When your veneers are placed, you'll be pleased to see that they look like your natural teeth. While veneers are stain-resistant, your Hayward dentist may recommend that you avoid coffee, tea, red wine, and tobacco to maintain the beauty of your new smile.
Invisalign®
Patients who have minor misaligned bites, crowded smiles, or gaps between their teeth, can take advantage of Invisalign treatment to discreetly straighten their smile. Invisalign® custom clear aligner trays are conveniently removable and allow you to straighten your smile without major change to your daily routine.
Wear your Invisalign clear aligners 20 to 22 hours a day for the best results, and take them out only to eat, brush, and floss. As you wear each set of aligners, your teeth will gently and gradually shift into place. We may recommend that you begin wearing a new set of aligners every week and schedule checkups every six weeks or so.

SMILE MAKEOVERS IN HAYWARD
At Southland Dental Care, we create individualized treatment plans that address the oral health and aesthetics of your smile. Your goals are our goals, and we aim to meet them comprehensive plans that combine cosmetic dental procedures as well as preventive care. For more extensive cosmetic and functional restorations, patients can turn to our office for dental implants to replace missing teeth lost from advanced periodontal disease or injury. Paired with our excellent restorations, such as porcelain crowns and bridges made with CEREC, our team can customize your treatment to meet the exact shade and appearance of your dream smile.

A NEW SMILE, TODAY!
If you're looking to enhance the appearance of your smile, contact Southland Dental Care today for more information about our various cosmetic dental procedures. Drs. Charles T. Giang and John J. Muzio, and the team at our Hayward dental practice, welcome you to view our smile gallery to see results created some of our services.